The Cammino Materano is not a proper historical journey, like the Via Appia or the Via Traiana, but it has created a system of Roman secondary roads, medieval streets, carriageways, sheep tracks and paths, in order to keep together a direction that was also an idea, that is to cross the unknown internal areas of the South to reach the heart of a territory, today considered marginal, but which for millennia it was a fascinating point of balance between different cultures.
Destination: Matera, a stone pearl set in the hinterland, an ancestral place suspended halfway between Basilicata and Puglia, the perfect destination to discover two lands that are close and similar to each other, but at the same time also distant and different.
The numbers of the journey
Length : 168,3 km
Stages : 7
Maximum altitude : 450 m
How long is the Cammino Materano?
From Bari to Matera, it is 168.3 kilometers long.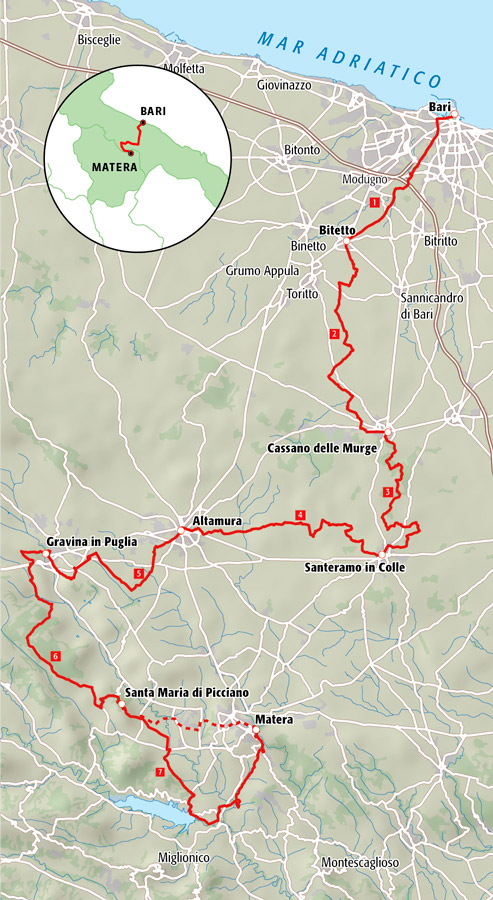 What are the stages of the Cammino Materano?
1 Bari ➔ Bitetto 17,0
2 Bitetto ➔ Cassano delle Murge 25,0
3 Cassano delle Murge ➔ Santeramo in Colle 22,0
4 Santeramo in Colle ➔ Altamura 24,5
5 Altamura ➔ Gravina in Puglia 20,0
6 Gravina in Puglia ➔ Santuario di Santa Maria di Picciano 30,3
7 Santuario di Santa Maria di Picciano ➔ Matera 29,5
When to go
Spring and autumn are the best seasons to go.
The temperatures that are not too high and the colors of the blooms allow you to better enjoy the Route. The most problematic months are summer, due to highs often above 35 ° C, the few water sources and the scarce opportunities for shelter from the sun. The thermometer rarely drops below freezing even in winter, making it a path that can be tackled even in the coldest months. It is important to pay particular attention in case of heavy rain or snow, considering not to cover one or more stages depending on the forecast and / or weather warnings. It must be borne in mind that between one stop point and another there are not always places to find shelter or public transport.
How to get the Cammino Materano credential?
The credential is historically the document that the pilgrim carried with him or her to certify that he/she was making a journey of faith. Today, even in the most secular journeys, and also on our path, it is recommended to leave with the credential, a sort of "passport" that certifies the status of a slow traveler. The various structures that are part of the network guarantee discounted prices to travelers with credentials.
In the absence of the credential, businesses are not required to comply with the agreements, therefore it is important to always have it with you.
This document can be requested by filling in a simple form, which can be found on the Cammino website or by sending an email to the addresswegomaterano@gmail.com.
The bookguide